May 8, 2020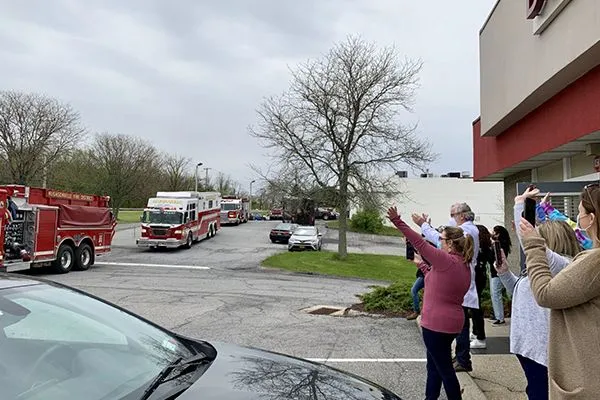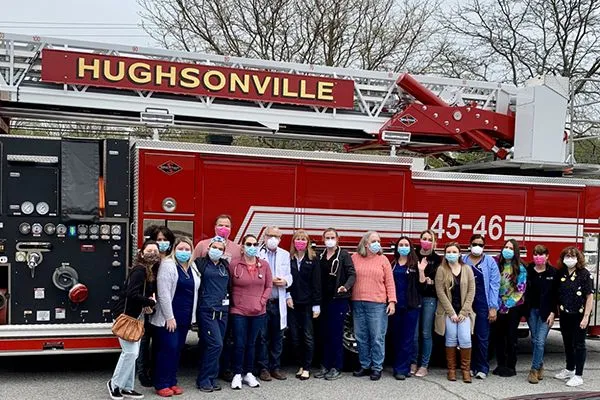 We would like to extend our sincere thanks and gratitude to the Hughsonville Fire Department who honored our frontline nurses who have been seeing Covid 19 patients since March. In honor of National Nurses Day, they drove all their firetrucks past our office and honked their horns to express their appreciation! Thank you to all our firefighters who are there for our community and know that together we will continue to work hard to be there for all those in need.
---
To our valued patients,
UPDATED 4/30/20
Our office remains committed to providing a safe environment to our patients for their health care. Since March we have made changes to our office. It is now separated into 2 separate offices, one for WELL visits including preventive care such as physicals, blood pressure follow ups and diabetic checks.  The entrance door is Suite 204 and leads into a separate waiting and check in area by the pediatric playroom.  The SICK visits will enter through the original door listing Hudson Valley Primary Care and our office hours. Those patients who exhibit any signs of Covid 19 do not enter the waiting area on the sick side but are met at their car by a nurse and led directly into a room. All patients are screened at the time of making an appointment and told which entrance to use. We have nurses assigned to the different offices. All patients are asked to wear a mask and wash their hands for 20 seconds prior to being checked in. All exam tables are wiped down after each patient as well as counters and door knobs throughout the day. Our staff uses Personal Protective Equipment and are trained in infection control. Televisits are also available for those who can be safely treated at home. Please be reassured that we are here for our patients and will be available to serve your health care needs throughout this crisis. If you have any questions or concerns, please ask us and we will provide you with the best options to stay well so that you will be able to address your health concerns without fear. Be safe, wear a mask, wash your hands for 20 seconds, and keep your social distancing at 6 feet so that you remain healthy and safe.
Update on COVID-19 testing:
Currently, our office is offering patients both COVID-19 testing options.
PCR Test for COVID-19
At this time, if you are symptomatic and meet the criteria for a COVID-19 infection, we are recommending that you get tested with a nasal swab or oral swab for COVID-19, which is sent to the lab. Testing can be performed in our office. The results are usually provided between 48 and 72 hours. This test will detect any COVID-19 viral particles that you may have. It is the most accurate for determining an active infection.
Antibody Testing
The antibody test which has recently become available commercially is highly sensitive, but unfortunately not very specific as it may pick up any previous coronavirus infections which may not be COVID-19. The ideal time to do this testing is at least 21 days from the onset of infection. We are offering this test to all of our patients by appointment and it requires a blood draw. This test must be interpreted cautiously because of the inaccuracy of the current test, as well as its inability to prove immunity . With time, newer testing will become much more accurate for COVID-19. If you have any concerns or questions regarding if you should be tested or not, please contact us and we can evaluate your symptoms and determine which test is most appropriate for you.
Our recommendation to all our patients is that even if you test positive for the antibody test, please continue to wear a mask, practice social distancing, wash your hands for 20 seconds or use hand sanitizer since it is not yet known whether or not your antibodies can prevent you from getting the COVID-19 virus again. As more information is gathered from the CDC we will continue to update our patients and provide all the newer testing as it becomes available to us.
Mark Foster, MD
UPDATED: 03/12/2020
As we navigate the Covid-19 (Coronavirus) pandemic, the health and safety of our patients remains our number one concern. Hudson Valley Primary Care would like to make you aware of the precautions we are taking to ensure patient safety in addition to those recommended by the Centers for Disease Control (CDC) and Department of Health (DOH).
When a patient calls our office with symptoms of illness, they are screened by a Registered Nurse to assess their risk for Covid-19 infection. Questions such as whether there has been contact with a suspected or confirmed infected person; travel to an area identified by the CDC or DOH as high risk which include the areas of Westchester County, New Rochelle , New York City , China, Japan , South Korea, Hong Kong, Iran, Italy and whether symptoms such as fever, cough or shortness of breath are present are assessed. Patients with fever and/or cough are provided with a mask to wear before entering our office and are asked to remain masked throughout their visit to protect other patients as well as HVPC staff.
All exam rooms and common areas such as waiting rooms, bathrooms and nursing stations are disinfected regularly throughout the day. Our staff follows strict handwashing procedures and hand sanitizer is available throughout the office.
We will continue to follow the most up to date CDC and DOH recommendations and encourage our patients to stay informed as well. We continue to be available by phone or via our portal if you have any questions or concerns.
For More information you can call the Dutchess County Coronavirus Help Line at 845-486-3555. You can also visit the Dutchess County Government page at: https://www.dutchessny.gov/Departments/DBCH/2019-Novel-Coronavirus.htm
---
While as of this date 3/4/2020 , there are no confirmed cases of Coronavirus-2019 (COVID-19) in Dutchess County, it is important to remain aware of the proper measures to take to protect yourself and family from infection.
Coronavirus-2019 is a respiratory illness that can spread from person to person. Early symptoms include cough, fever and in some shortness of breath. People at greatest risk of infection are those with known exposure to someone with the illness, such as healthcare workers and close family members who have cared for someone with COVID-19. Others at higher risk are those who live in or have traveled to areas with ongoing spread of the disease.
In order to provide the best care to our patients and community, the office staff will be asking anyone who complains of fever, cough or shortness of breath about recent travel as well as if they have had close contact with someone with a confirmed case of the disease.
As any virus, the best protection you can do for yourself and loved ones is to frequently wash your hands thoroughly with soap and water or an alcohol-based hand sanitizer. Cover coughs and sneezes and avoid touching eyes, nose and mouth. Do not go to school or work with a fever.
For the most up-to-date information on COVID-19 please visit: